One of my recent acquisitions was a journaling game called Journey, by Luke Miller. The game can be purchased here: https://www.drivethrurpg.com/product/350043/Journey

What can I tell you - this game is goood!



Here is the write-up from one of my plays, where I was exploring the city in Ironsworn setting. My Ironsworn character Otter just crossed the mountains and is moving towards the city, and I wanted to explore the location through the eyes of another traveler before she gets there.

Setting Name: City of Etulf - Ironsworn
Setting Details or Description
One of the very few cities in Ironsworn world, it is what could fit inside the fortress wall and around it. Someone important whose power stretches over mountains lives in the city, but this person is probably not the main official authority there - so most likely there is more secrets in the city than what creates its visible part.

Journey Length: 4 waypoints

WAYPOINT 1
Waypoint Type: Archeological
Waypoint Name: Old Castle
Number of aspects: /

Travel
As I walked in from the wilderness, I noticed 2 fortresses standing. One big to the west and another, smaller and ruined one a little bit east. The old castle intrigued me, so I started moving towards the ruins.

TRAVEL EVENT:
Travel Event Type:
You are being blocked from proceeding to your currently intended Waypoint. Skip to the next Waypoint in your Journey (or draw another), doubling back to your current destination afterward if you wish.

Description of What Happened
Unfortunately, a group of big guys standing there with apparently no reason did not allow me to enter the old castle. They were wearing no insignia to mark they belong to city guards or something. But they insist I will have to go to main gate first and check in. I will try to come back here tonight.

 
WAYPOINT 2
Waypoint Type: Architectural
Waypoint Name: New Fortress
Number of aspects: 2

Travel
I have left the ruffians behind and continued towards the city itself.

TRAVEL EVENT
Travel Event Type
You either discover or are offered some surprise assistance or shortcut that makes your Travel extremely easy.

Description of What Happened
A passing merchant offered to take me to the gate on his cart. Offer that one does not refuse.

Description of How Event Was Resolved
I offered to pay for a transport with money or service, but the merchant just waved his hand and moved on. As everywhere, so it is here. Some people are mean and some are kind, for no visible reason.

Arrival
This fortress must have been built when the old one become too small to host the city. Its purpose is to keep ruling class safe, but in case of attack also to serve as shelter for townsfolk living in an area surrounding the castle.

ASPECT EXPLORATION
Aspect Type: An especially significant adornment within or on this Waypoint and why it's of particular significance
Suit Modifier and Meaning: Surprising
Above the fortress entrance hangs the city flag depicting a flute on red and black background. A flute! For an adept of flute magic like me, that is the last symbol I would expect to see. I should investigate this further.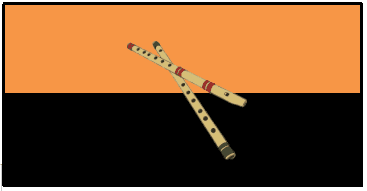 Aspect Type: How the surfaces and textures of this Waypoint feel physically to your form?
Suit Modifier and Meaning: Emotional
As I touch the fortress walls, I can feel that its structure is not random. Music is written on its walls, notes carved in the alphabet of blind musicians. There is magic inserted into these walls, sank into them when this structure was built! I guess that ordinary citizens living here know nothing about it!
WISH YOU WERE HERE
To: Flute Master Ioda
I have just arrived to City of Etulf but I can already feel that this place is submerged in flute magic. Ordinary people will pass by unnoticing, but for us, there is musing captured here, waiting to be released.
WAYPOINT 3
Waypoint Type: Historical
Waypoint Name:
Lady Luna's Garden
Number of aspects: 3
Travel
Walking around the fortress, I noticed a small patch of green at the far corner. Someone is cultivating herbs in this fortress. I started walking towards the green through busy marketplace hearing merchant shouting while promoting their wares.
TRAVEL EVENT
Travel Event Type
Something goes wrong with your mode of travel that must be fixed or worked around before you can continue
Description of What Happened
Suddenly, a fight broke between a merchant and a ruffian. Attacker reminded me of people who blocked my way towards the Old Fortress. I stepped behind one of the market stalls to avoid being involved.
Description of How Event Was Resolved
But other merchants were not being idle, they stepped up to help their friend, and ruffian soon took wind. It seems that these bullies are well known, and not very popular among merchants. Once it all settled, I continued towards the patch of green.
Arrival
There are no market stalls near the garden. It seems that this place is respected by the citizens. Location is marked with the table giving the location a name: Lady Luna's Garden.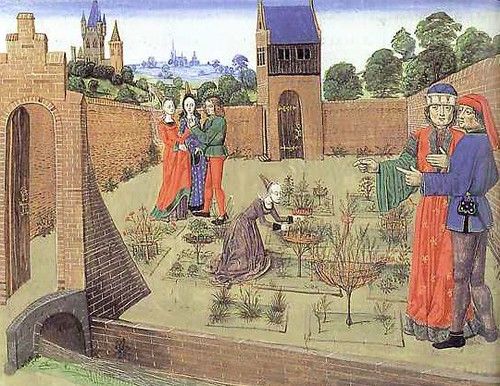 ASPECT EXPLORATION
Aspect Type: Opposition to the remembrance and memorialization of the events that caused this Waypoint to become regarded as historic
Suit Modifier and Meaning: Important
The garden seems small, only a few healing plants and refreshing tea herbs. But as I turned my head from it, I noticed several ruffians. They first walked by the wall, but as they approached the garden they made quick protective sign against magic and circled the green as far as possible trying not to look too suspicious.
Aspect Type: People or powers that protect and maintain this Waypoint from the effects of time and other damage
Suit Modifier and Meaning: Surprising
One of the merchants approached me. "Our Lady Luna was a healer. Lived some hundred years ago. Her father left old fortress and built this one" he told me. Our merchant's guild keeps this garden in memory of her, and she protects us from sickness.
Aspect Type: Emotional responses that being in or around this Waypoint (and thinking of the events it memorializes) evokes
Suit Modifier and Meaning: Important
Current Lord Etulf comes from the different bloodline, and is not fond of Our Lady Luna, or Merchant's gild. He seems to have other plans for this town, does not see it as marketplace any more. There is open rivalry between Lord and Merchants, but so far no side has significant advantage, and both are afraid to do anything that would tip the balance.
WISH YOU WERE HERE
To: Flute Master Ioda
There is a small garden in this city. It is not much to look at, but it has huge significant for the city as it is an emblem of merchant guild and their resistance against Lord Etulf and his ruffians. I wish you were here as you would be able to read energies of this place much better than I can.
WAYPOINT 4
Waypoint Type: Archeological
Waypoint Name:
Old Castle
Number of aspects: 4
Travel
Night fell, and I am ready to explore the Old Castle.
TRAVEL EVENT
Travel Event Type
Travel conditions change in some significant way that impact your experience
Description of What Happened
Things look different during the night.
Description of How Event Was Resolved
I was prepared to explore ruins by night, as I brought with me small protected lantern able to emit directed light. I hope that people from town will not learn about my night expedition.
Arrival
Ruins look a little frightening in the dark. I lighted the lantern and started walking carefully in order not to trip on some rock.
ASPECT EXPLORATION
Aspect Type: How the people feel about this waypoint?
Suit Modifier and Meaning: Emotional
Merchant's guild sees this location just like an insignificant monument of the old times, unaware that it is much more. Old Castle seems to hide so many forgotten knowledge merchants do not care about. I feel angry when I think how shortsighted people can be. I also fear what will happen to the area if current Lord Etulf finds the way to re-learn the secrets of this place.
Aspect Type: Stories and legends people tell about waypoint
Suit Modifier and Meaning: Supernatural
Legends tell about old Lord Etulf, father of Lady Luna, who signed a pact with a daemon. During just one night, daemon destroyed the old castle and used its rocks to build the new Fortress. Both places were then filled by dark energies. Lady Luna built her garden and the plants transformed all the dark into light. She then opened doors of a new city for merchants, and area started prospering. But the daemon still sleeps below the old castle walls.
Aspect Type: Especially interesting and distinct features that casual explorer might miss
Suit Modifier and Meaning: Surprising
Music is written on the ruined walls of the Old Castle too. Maybe there is a truth that the New Fortress is made from old Castle materials, and that this music is remnant of some older times.
Aspect Type: The smell and feel of the air
Suit Modifier and Meaning: Surprising
The air is still, and stale here. It is unnaturally quiet, as if air is too heavy to move and carry sound. Playing music would be impossible here.
WISH YOU WERE HERE
To: Flute Master Ioda
Old Castle used to be a place of music, but it is no longer. It would be impossible to play any instrument in it. This place holds many secrets, but it may be better if they stay hidden forever.

REFLECTION
During one of my travels, I visited City of Etulf. It is a strange place torn between two fractions - city nobles wage a constant power struggle against Merchant's Guild.
And while the very walls of the city are immersed with music, there is strange lack of it on its streets. On some places, like Old Castle, it is even impossible to make any kind of sound.
This city seems to live normal everyday life, but there are dark secrets hidden deep in its root. I pray that they will stay hidden forever.